I'm dreaming of a soy Christmas!
About the Owner
Liv is a young entrepreneur living in Madison, WI, and the female mastermind behind Petal & Wick! She originally started her small business as "Wicks by Liv" several years ago in her small apartment while in nursing school.
She started out the first few summers selling to friends and loved ones. Eventually, Wicks by Liv began to branch out and sell at local Farmers Markets and events, making many new connections, customers, and friends.
After an incredible rebrand last year, Petal & Wick was born. With a new aesthetic, logo and creative mindset, our products now have a cohesive, modern look with a fun twist on incorporating floral and succulent aspects into our soy wax designs.
In 2022, we established a small retail suite in Cambridge, WI. A busy nursing work schedule only allows our consistent retail hours to be Thursday nights, but we enjoy seeing and meeting new friends every week!
Why Soy Wax?
All candles and wax melts at Petal & Wick are made with 100% Soy Wax formulated with U.S Soy Beans. This means your candles are not only made from environmentally friendly, sustainable products sourced from the United States Soy Bean Industry, but these naturally based candles emit cleaner, pollutant-free air!
Our products are free of phthalates, dyes, lead, parabens and provide a long, clean, eco-friendly burn. All products are hand-decorated with natural herbs, spices and greenery; including coffee beans, cinnamon sticks, dried flowers and eucalyptus leaves. 
Taking Care of your Candles
Remember to burn your candles for 2-3 hours at a time to ensure your melt pool is reaching both sides of your container. Keep your wicks trimmed to 1/4" in-between burns or 1/8" for wooden wicks. Don't worry if the appearance of your candle changes after re-cooling and melting. Frosting and bumpy surfaces are characteristics of natural waxes and will not affect your candles functionality. 
As far as the dried flowers in your candle. Feel free to remove those before burning if you are not a customer who pays much attention to your candles! Otherwise, remove your large flowers before your candle is completely burned down to reduce the chance of the dried pieces catching fire from your used wicks.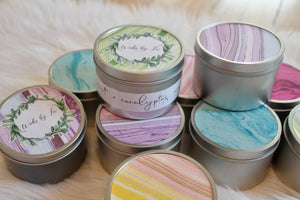 Product Labeling & Packaging
At Petal & Wick, we take pride in formulating and printing all of our own packaging and labeling. All product labeling and packaging is hand-created on our laptop, printed at home, and cut out and placed on products by hand. Please be conscious of this and understand that individual product labeling and/or packaging might differ slightly. 
Any changes made to labeling and packaging or the floral aspects of the candles are typically due to low stock on supplies used.
Just see how different our packaging is now from our first candle tins!
FOLLOW US ON SOCIAL!
@Petal&Wick
Tag us in your favorite photos, videos and purchases of our products from your local markets or our online store! We'd love to see how your transforming space with our items!